Bushey During the Great War: A Village Remembers
August 2014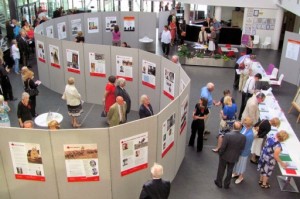 Sunday 3 August
Inter-denominational Service to commemorate the outbreak of The Great War at St James' Parish Church, Bushey.  A peal of bells was rung in memory of Bertram Prewett, a local and nationally renowned bell-ringer, who died in 1918.
Monday 4 August
The Exhibition at The Bushey Academy was officially opened by The Lord Lieutenant of Hertfordshire, The Countess of Verulam, one hundred years after Britain declared war.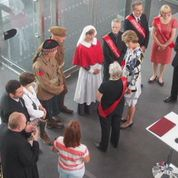 The Lord Lieutenant meeting the team at the opening ceremony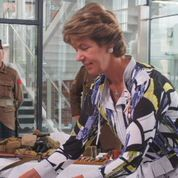 Signing the Visitors' Book
The Exhibition featured
50 panels telling the story of men and women from Bushey and Oxhey during The Great War.
A display of work by students of The Bushey Academy and St Margaret's School for Girls, Bushey.
Comments from the Visitors' Book
'Magnificent, totally professional in concept, design and display'
'A wonderful tribute, thought-provoking and very moving'
'Excellent research, educational and informative'
Events during the Exhibition
Illustrated talks
A Local Great War Trail
Finding Heaven in Hell: The experience of WW1 chaplains
Remembering those who served
Painting in 1914 – An Artist's View
The Sinking of the RMS Leinster
WW1 – A Personal Journey of Discovery
Poetry reading from The Great War
Songs from The Great War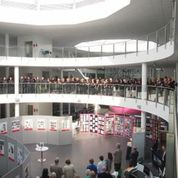 Informal excerpts from 'Oh! What a Lovely War'
Six WW1 Concerts
The Bushey and Oxhey WW1 Plaques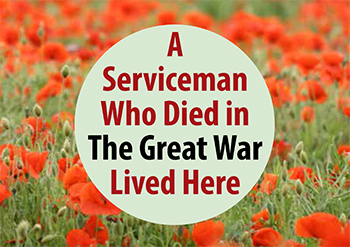 In 2014 a number of householders in Bushey Heath, Bushey and Oxhey were invited to display a temporary plaque like this on their window or front gate to commemorate the ultimate sacrifice made by at least 350 young men from this area
Details and biographies of those who died and names and addresses of those serving abroad were on show at the exhibition