Are you related to
Thomas Edward Everard?
I happened to be visiting Salisbury on 1st July 2016, and found an event taking place in commemoration of The Battle of the Somme. Khaki-clad soldiers, in a number of sections of about a dozen men, were quietly walking through the streets. As I passed one of these strangely disconcerting processions, one of the soldiers handed me a small card. It gave details of  a sergeant who had died on 1st July 1916 on the Somme. The name was unknown to me, but then a few weeks previously I had never heard of Thomas Edward Everard either.
In May 2016 I had visited my mother, who lives in Braughing, Hertfordshire. I was helping to clear a bank of weeds in the front garden when my spade hit something metallic. It was a disc about the size of a CD, buried under an accumulation of soil and dead leaves in a hedge. I put it to one side while I continued my work, assuming the disc was something that had been dropped by engineers working on a nearby telephone pole. However, when I later cleaned it under a tap I found it had nothing to do with telecommunications. There was a lion and a figure holding a wreath, and there were words around the edge – 'He died for freedom and honour'. What was it? It took a few seconds for the penny to drop, so to speak, as I had only seen one of these on a TV programme. It was a 'dead man's penny', a memorial plaque given to the families of the service men and women who lost their lives in World War 1. There was a name, but who was Thomas Edward Everard? I've done a lot of work on my family history so was quite certain there were no Everards included in it. They didn't seem to be previous owners of my mother's bungalow, nor of the neighbouring property. In fact, online research showed that Thomas Edward Everard had been born in Bushey, some 25 miles away, so how did his penny end up in a hedge in Braughing?
As for what such a memorial was doing in a hedge, many were sent back or thrown away, such was the disgust of a human life being equated with a mere bronze disc. Why a hedge in Braughing? Well that is still a mystery and may never be solved, but what of the man for whom the penny was issued?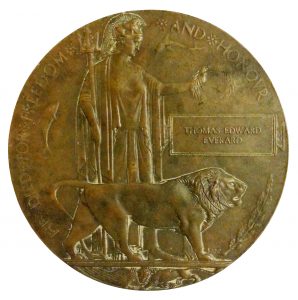 Thomas Edward Everard, the son of George Everard and Mary Ann (nee Prior) was born  in Merry Hill Lane (now School Lane), Bushey, Hertfordshire, on 29 September 1880 and was christened  at St James' Parish Church in Bushey on 19 December. The census returns for 1881, 1891, 1901 and 1911, tell us he had three brothers, William Affleck Everard, James Augustus and Charles Albert and two sisters,Emily Maud and Edith Mary. By 1891 they were all living in London. In 1904 Thomas married Eliza Perry in Romford but sadly she died the following year at the age of 25. The 1911 census shows that Thomas returned to his family in London, where  he became a grocer's assistant. At the outbreak of war he enlisted at Woolwich as Private 252721 in the 2nd/3rd battalion of the London Regiment.
His service record tell us that he was presumed dead on 16 June 1917, and while precise details are difficult to find, it seems he may have died at Bullecourt during a flanking action. Thomas' name appears on the Arras Memorial, which commemorates some 35,000 servicemen who came from the United Kingdom, South Africa and New Zealand and died in the Arras sector between the spring of 1916 and August 1918. His monetary effects were divided between his siblings.
Michael Stacey 2017
Michael Stacey has donated Thomas Edward Everard's commemoration plaque to Bushey Museum but would like it to be passed on to a relative.
If you are related and would like to claim it please contact us via this website.
National Award 2016
We are proud to announce that we were finalists of the national REMEMBER WW1 Awards.
A Village Remembers: Bushey during the First World War was chosen from 160 applicants as one of 4 finalists in the Community Research and History category.
Competing with projects using hundreds of volunteers, professional research support and huge lottery funding, our small project team was praised by the judges for a highly commendable active and inspirational commemoration. The quality of the exhibition panels designed by Nick Overhead was particularly noted. Congratulations to all concerned and our thanks to all those who supported us.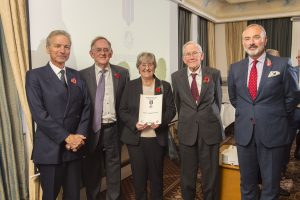 Comments on the Award
You are rightly proud! We were so thrilled for you and all the committee when we got this brilliant news, which is richly deserved. We have lived in Bushey since '67 and it is without doubt the very best event which has ever been staged here, we made many visits…each one inspirational. Many congratulations
Monica & John Law
I am so pleased that you all have received the recognition that you all deserve. We knew that it was a great exhibition. Well done to the whole team.
Margaret and Jim Craig Gray (Exhibition Stewards)
What wonderful news and a well-deserved accolade, too. I do congratulate you and the project team for all the hard work you put into this! I thought it was a moving and most memorable exhibition.
Lucy Kinna (Exhibition Steward)
Well done! Thank you for all the work you put into the project, and for throwing more light on my family tree. Thanks to the Bushey WW1 website, I have been contacted by a second cousin I didn't know I had!
Diane Livesey (Exhibition Visitor)
The Somme
Norman Collins was aged 19 when he went to France, a typical age for Second Lieutenants, but most would not expect to be thrown straight into a battle. He arrived on the Somme in late October 1916 and was given the responsibility of going forward into the quagmire close to Beaumont Hamel to reconnoitre No Man's Land. A couple of weeks later the 51st Division stormed this village and for this young lieutenant shepherding his men forward, signalling where to go and how to stay in line, it was a test of his calibre as an officer, and the aftermath would change his outlook forever.
After the battle he was given the appalling job of collecting the dead, first of all from his own battalion, men including his own batman, and two fellow officers with whom he had shared the previous night, and then from the dead of battalions cut up four months earlier on the first day of The Somme.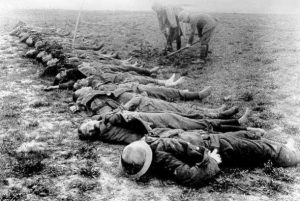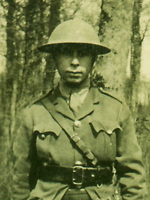 Norman Collins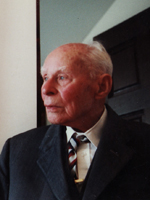 Diane Burton from Bushey, the niece of Norman Collins, recalls her uncle's description of the Somme, published in his obituary in The Times on 5 February 1998.
Norman Collins, soldier, engineer and industrialist, died on 2 February 1998, aged 100
Recalling his terrible duties as a burial officer in November 1916, Norman Collins wrote:
'I buried over a thousand men in shell holes, a lot of them of the Newfoundland Regiment, killed on July 1. There was a rat's nest in the cage of the chest of most of them, and the rats had already attacked our newly killed men of the 13th. Our men were collecting bodies of their own brothers and cousins and friends'.
Norman Collins was nineteen years old, and this was an experience that haunted him to the end of his days. In old age he made a point of sharing the horror with young people he met in the hope that he would so impress them with the folly and futility that any repetition would be prevented. Although Collins was for most of his life an engineer and industrialist it is as a soldier, first and foremost, that he would wish to be remembered.
On his 92nd birthday he re-visited the trenches in which he had fought in 1916, and was granted the Freedom of the City of Albert (on the Somme). It was an honour he cherished above all others. In his last years he participated in programmes about the Great War.
His goal was to be the final survivor of the battles of the Western Front of 1916, but it was not to be. He faded away with great dignity two months before his 101st birthday. He outlived his wife, Helen, whom he married in 1940, by ten days. He is survived by a son and daughter.
The full story of Norman Collins is told in his memoirs Last Man Standing, edited by Richard Van Emden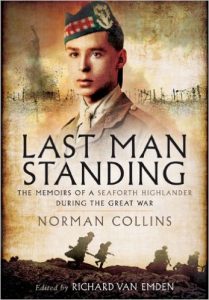 Bushey Servicemen at the Somme
'The earth shook, the ground and all that was on it turned to dust. Chaos reigned. No one who has experienced war could ever forget the horror, the early death, the waste, the pain, the suffering'.
The Times 28 August 1916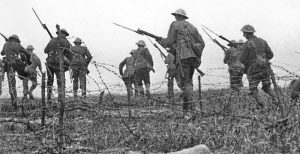 The main British battle in 1916 was fought north of the River Somme between 1 July and 19 November. On the opening day the British army suffered its heaviest ever losses in any 24 hour period: almost 20,000 dead and 60,000 wounded. Both sides made extensive use of machine guns in defence and attack. The Somme caused the Germans even more casualties than the British, forcing them to build a strong, new defensive line against the British in France.
Source: Imperial War Museum
6 servicemen from Bushey & Oxhey died on 1 July 1916, the first day of the Somme.
Louis Joseph Conquest, born in 1898, was the son of Joseph Oliver Conquest, a carpenter, and his wife Annie. They lived at 22 Oxhey Street (now part of Oxhey Avenue) but by 1911, when Louis and his younger brother, Albert, were at school, the family had moved to 17, Watford Heath. Louis enlisted as a Rifleman in the London Regiment and was killed in action on the first day of the Somme, aged 18. He is remembered with honour on the Thiepval Memorial of the Missing of the Somme, which bears the names of more than 72,000 officers and men of the United Kingdom and South African forces who died in the Somme sector before 20 March 1918 and have no known grave. He is commemorated on the memorial at Bushey and Oxhey Methodist Church and at St Matthew's Church, Oxhey. Michael Conquest, the owner of Mavis, the wool and craft shop, on Bushey High Street, is his nephew.
Arthur Wilson was born in 1892 and in 1911, at the age of 18, he was employed as a clerk at the stock exchange. He lived with his parents at 'Cromwellhurst', Bushey Grove Road. His father was a clerk of the council and Arthur was the third of five children. He was educated at Watford Boys' Grammar School.He enlisted in the East Kent Regiment and was killed in action on the first day of the Somme.  He is commemorated at Thiepval, the memorial to the Missing of the Somme and his name is recorded on the memorial at St Paul's Church, Bushey. His parents later moved to 37 Cassiobury Park Road, Watford.
Frederick Essie Gordon Watson was the youngest son of Frederick and Edith Ann Watson, who brought up their family at 162 High Street, Watford. His father was a station master for the railway. In 1911, Frederick was 19 and was employed as a solicitor's clerk.  When war broke out, he joined the London Regiment and served as Lance Corporal 281186 (3415) in the Royal Fusiliers. He was killed in action on the first day of the Somme at the age of 24. He is commemorated on the Thiepval Memorial to the Missing of the Somme and on the Bushey Memorial and at St James' Parish Church, Bushey.
Charles James Trott, the son of Charles and Harriet Trott of 27 Herkomer Road, was born in Hendon in about 1890 but grew up in Bushey. His father was a general labourer and Charles was one of six children. He enlisted for service in the First World War at Mill Hill and served as Corporal 12942 in the Duke of Cambridge's Own (Middlesex Regiment). He was killed in action on the first day of the Somme and is commemorated at Thiepval, the Memorial to the Missing of the Somme and on the memorial in St James' Church in Bushey.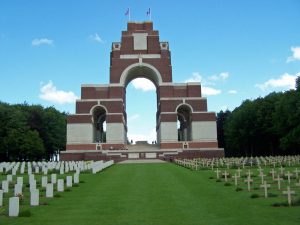 Harold Charles Montague, born in Hampstead, London in 1896, was the eldest son of Charles and Lucy Montague in a family of six children. His father was an organist and music teacher. In 1901, when Harold was four years old and his sister, Phyllis, was two, they lived with their parents at 'Eton Cottage' on the High Road, Bushey Heath. As the family grew in size they moved across the High Road to 'Claremont House' near 'The Warren'. Harold enlisted in London as Private 3053 in the London Regiment. He served on the Western Front and was killed in action on the first day of the battle of The Somme, aged 19. He is remembered with honour at the Thiepval Memorial to the Missing of the Somme. He is commemorated on the Bushey memorial and on the memorials in St James' Parish Church and at St Peter's, Bushey Heath.
George Beaumont, born in Watford in 1895, was baptised on 21 June that year at St Matthew's Church, Oxhey.  He was the son of George Beaumont, an iron founder, and his wife, Nellie, who lived at 40 Capel Road, Oxhey.  At the time of the 1911 census, George was 15 and listed as a Post Office messenger, living in Capel Road with his parents, his younger brother, Charles, and two boarders. He volunteered in November 1914 as Rifleman 3777 with 1st/9th London Regt. (Queen Victoria Rifles) and in the following May was drafted to the Western Front. While in this theatre of War he was involved in several important engagements, including the Battle of the Somme, in which he was killed. He is remembered with honour on the Thiepval Memorial to the Missing of the Somme. He is commemorated on the memorial at Bushey and Oxhey Methodist Church.  His brother was still serving in 1920.
One of the survivors of the first day was G. G. Walker was a former pupil of the Royal Masonic School in The Avenue, Bushey.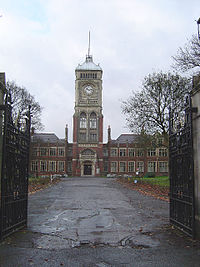 Royal Masonic School, Bushey
In 1916 he wrote from hospital:
'We made an attack on 1st July and managed to reach the German lines with fairly small casualties, but things were not as we expected and the Germans were there to meet us. It was here that we lost all our men. I was hit 60 yards from the German lines and remained out there for two days and nights, unable to move ….'
The Somme Offensive continued from 1 July until 19 November 1916 on both sides of the upper reaches of the  Somme
Among those killed then or during the following months were the following servicemen from Bushey and Oxhey who are all commemorated at Thiepval
AISH, GEORGE
ALLEN, JAMES BERRY
ANDREWS, JOHN EDWARD
ANDREWS, WALTER ERNEST
BILLINGER, HECTOR FUSSELL
BLACKWELL, WILLIAM GORDON
BUNCE, FRANK
BURCH, WILLIAM HENRY
BYRNE, FRANK ARTHUR
CROFT, GEORGE
CULLING, HAROLD WILLIAM
DYER, EDWARD JOHN
EYDEN, LAWRENCE ROBERT
FROST, JAMES GEORGE
GARE, JOHN HENRY
GREEN, IDRIS
IBBOTT, ARTHUR DAVID
KING, JOHN
LEADER, BENJAMIN EASTLAKE
LE ROSSIGNOL, LEONARD
LEVER, GEORGE
MOLONY, CHARLES ALBERT
NEALE, HARRY
PALMER, JOHN ALDRED
PRITCHARD, GEORGE
RAWLINSON, CHRISTOPHER CLAUDE HEDLEY
RIDDLE, NELSON
ROLPH, WALTER
SHERVINTON, WILLIAM HUGH BYAM
TYERS, RICHARD J
WINFIELD, FREDERICK ALFRED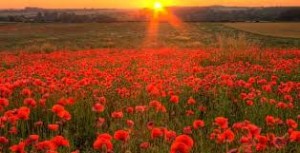 We will remember them
Royal Masonic Schools
555 former pupils of The Royal Masonic School for Boys in Bushey served in The Great War and 111 died, including 6 schoolmasters, who are all commemorated on Bushey war memorials.   The Roll of Honour that was erected at the school in Bushey in their memory has now been moved to The Royal Masonic School for Girls in Rickmansworth.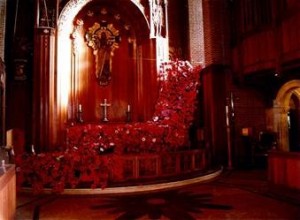 All the poppies in this magnificent display in the chapel at the Girls' School were made by pupils of all ages and by academic and domestic staff in memory of those who died in The Great War   Our thanks to Gordon Metcalfe, who took the photograph, and to the Headmistress, Diana Rose, for permission to use it here.
Bushey Poster on Display in Scarborough
On the morning of 16 December 1914, the North Sea ports of Scarborough, Hartlepool, West Hartlepool and Whitby were bombarded by the German First High Seas Fleet, resulting in 137 deaths and 592 wounded, almost all civilians and including children. In 1914 British public and newspaper outrage was directed both at the Germans and also at the Royal Navy for not protecting the towns. Edith Kemp-Welch's magnificent poster reminded people why they had to fight back and encouraged them to enlist in the services or join the thousands of munitions workers on the Home Front.  The poster is now proudly displayed in Scarborough Town.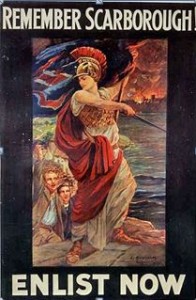 Helen George, a steward at the Bushey exhibition who provided research material, was in Scarborough on 16 December 2014 for the Centenary Commemoration of the East Coast Bombardment.  The commemoration event was held in St Nicholas Gardens, next to Scarborough Town Hall, overlooking the bay. 18 people died in Scarborough, including a postman, a shoemaker, a shopkeeper, 3 maids, 2 housewives and 4 children. The ceremony was started by a Town Crier at 7.55 am to coincide with the time when the first shell was fired on the town. A maroon was fired from Scarborough Castle to simulate the 1914 attack, after which the names of those who perished were read out. The keep at Scarborough Castle was lit up during the ceremony and a flotilla of boats, organised by the RNLI and Scarborough Yacht Club, was stationed outside the harbour. As the event progressed, the sun came up and boats in the bay flashed their lights in tribute. As an element of surprise for visitors, 18 doves were released at the end of the ceremony.
Roll of Honour at The Tower of London
Monday 10 November 2014

On Monday 10 November 2014, the day before Armistice Day, Michael and Pam Conquest of 'Mavis' in Bushey High Street, went to the Tower of London for a special ceremony, at which the name of Michael's uncle, Rifleman L J Conquest of the London Regiment (Queen Victoria's Rifles) who was killed in action on the first day of the Somme, was read out. Yeoman Warder 'Beefeater' Bob Brown marched out in the darkness, resplendent in his scarlet and black uniform, and before a vast crowd of visitors and relatives slowly read out two hundred names. Lance Sergeant Potts then stepped forward to play the Last Post, which echoed round the Tower.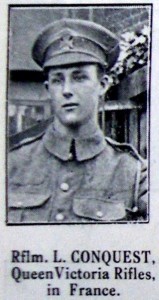 In response to huge interest the Tower of London started recording the Roll of Honour readings from 11 August 2014. You can listen to the reading Michael Conquest heard on 10 November and the Last Post at http://poppies.hrp.org.uk/roll-of-honour/10th-november/
Ceramic Poppies at Bushey House Beaumont
2014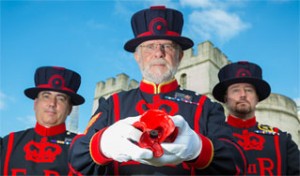 Bushey House Beaumont Care Home has received two ceramic poppies from the display at the Tower of London,
'Blood Swept Lands and Seas of Red'.
These will be dedicated to Lieutenant Edward Hedley Cuthbertson and his younger brother, Second Lieutenant Hugh Cuthbertson, who lived at Bushey House and died during The Great War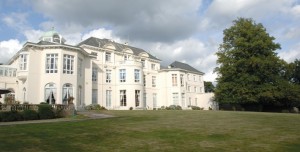 WW1 Memorial Re-dedication Ceremony
On Sunday 28 September at 3 pm the WW1 War Memorial from Paddock Road Baptist Chapel was re-dedicated at a short service on Oxhey Village Green.  Rev John Lockley of Bushey Baptist Church led the proceedings and Ben Atkins, Chair of OVEG, gave thanks on behalf of the community to Ian Mackay, who rescued the memorial tablet from the Chapel and supervised the building of the memorial on the village green. Captain R G Charnock (Rtd) read the poem 'In Flanders Fields'.
There are six names on the memorial,
Frank George Loveday killed in action 19 May 1915, aged 18
Donald G Weston killed in action 3 December 1917, aged 19
Frederick C Neville killed in action 3 December 1917, aged 19
Arthur David Ibbott death presumed 3 September 1916, aged 25
Bertram Charles Ibbott died of wounds 16 July 1917, aged 21
May Florence Duke died in Bushey Heath Cottage Hospital 2 Sept 1920, aged 20
Jill Ibbott, the only member of the Ibbott family still living in Oxhey Village, read a moving extract written by the father of Arthur and Bertram Ibbott and the service ended with The Last Post.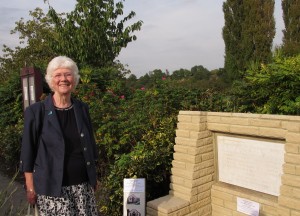 Jill Ibbott at the Oxhey Village Memorial
£1,284 raised for the Peace Hospice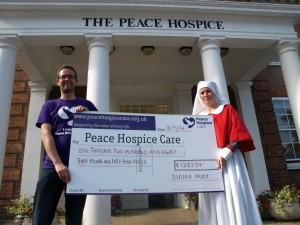 Little Reddings School WW1 Commemoration Day
On Tuesday 1 July, Little Reddings Primary School held a First World War Commemoration Day. Biographies of Bushey servicemen were displayed around the school. Each class was assigned a particular serviceman to think about throughout the day and one class visited St James's churchyard to find some of the servicemen's graves. Older children wrote imaginary letters home from Private Frank Loveday, who served on the Western Front and was only 18 when he died.  Members of the Bushey Museum team were on hand to answer questions and one member appeared in a First World War uniform from a Scottish Regiment. At a singing assembly, a recruitment song written in 1915 by Amy Brooke, who once lived nearby in Coldharbour Lane, was sung with gusto by all the children, together with 'Pack up your Troubles' and 'It's a Long Way to Tipperary'. At the end of the day the children were joined by parents on the school field. To the sound of the Last Post they all placed crosses on the grass in memory of those who died and shared a moment of silence. Money was raised for Hertfordshire Heroes.
A Personal Visit to the Menin Gate
Residents from Bushey, who were recently visiting Ypres in Belgium to see the name of a relative on the Menin Gate Memorial to the Missing, also wanted to see the name of Charlie Payne from 7 Reveley Cottages, Bushey Heath, featured on this website in an article 'Poppies of Remembrance'. They found his name on the memorial and left a cross in his memory.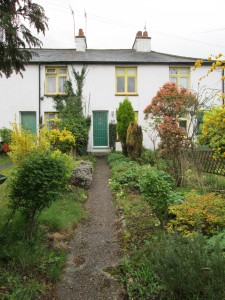 7 Reveley Cottages, Bushey Heath
Gallipoli
Alwyn Jones, a member of the team organising the Exhibition has recently returned from a visit to Gallipoli. For the last four years he and a friend, Alex Kaye, have made an annual pilgrimage to learn more about events that took place in the Dardenelles and to honour men from Hertfordshire who died there during the First World War.
This year they took with them details and biographies of eight men from Bushey and Oxhey who are buried or commemorated there and have been researched by the Bushey First World War Commemoration Project.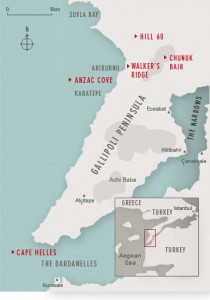 Alwyn and Alex visited Ari Burnu Cemetery, Anzac Cove and placed a British Legion cross on the grave of Trooper Harry Hickman Binyon. Originally from Grover Road, Oxhey, Harry Binyon was an Old Boy of Watford Boys' Grammar School.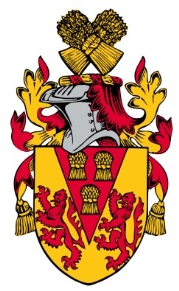 He emigrated to Australia, enlisted with the Australian Light Horse Regiment during the war and was killed on 30 May 1915, aged 41.
At Lone Pine Cemetery, Anzac Cove, Alwyn and Alex saw the memorial stone to Lieutenant John Lionel Calvert Booth, a former student of the Herkomer Art School in Bushey, who emigrated and joined the ANZAC expeditionary forces.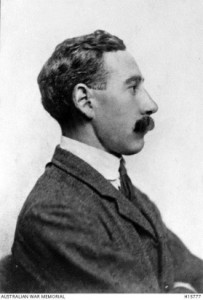 He died at sea, aged 38, on 28 April 1915 as a result of wounds received at Gallipoli.  Among his possessions returned to his wife was his beloved banjo, which went everywhere with him.
The Helles Memorial to the Missing at the entrance to the Dardenelles carries memorial tablets to the ships and crew sunk in the Gallipoli Operation. Fleet Paymaster Arthur Reginald George Beal from Oxhey was among those drowned on HMS Goliath, which was torpedoed by a Turkish destroyer.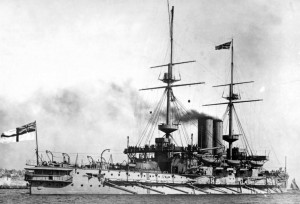 Alexander Purssell of Capel Road, Oxhey,enlisted in London as a Private with the London Regiment. He was killed at Gallipoli on 27 September 1915, aged 20 and was buried at Green Hill Cemetery, Suvla Bay, Gallipoli.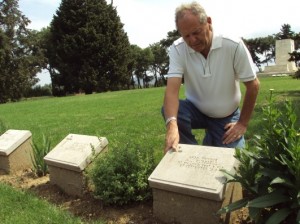 Alwyn Jones at the grave of Alexander Purssell from Oxhey