Archive
A Pacifist who fought for his Country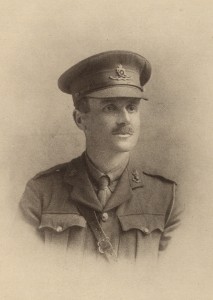 Ronald Morley Hooper, MA, was a Master at the Royal Masonic School in Bushey from January 1904 to December 1915. He was killed in action in France on 18 March 1918.
R G Alexander, a pupil at the school from 1911 to 1919, had affectionate memories of his former House Master and long wished to pay tribute to this most unusual schoolmaster, whose influence was so profound and so impressive.
He wrote the following tribute for The Old Masonians' Gazette in 1984:
I first knew Mr Hooper in 1912. I was then 12 years old and he remained my House Master, until he left to join the Army in 1915.
His father was a non-conformist minister, who lived in Stratford-upon-Avon. Mr Hooper taught Mathematics and was unmarried, as were all House Masters at the School in those days. He was then in his early thirties and was a great one for keeping himself up to scratch, both physically and mentally. He was of medium build, but vigorous, and he led the House in pretty strenuous runs, or 'general gapes' as he called them. To stop the rot mentally, he would set himself mathematical problems to solve, without putting pen to paper. His conduct of the House was natural but firm.
He was something of a socialist and a confirmed pacifist. He was, perhaps, something of a dilettante; he was liked rather than worshipped; he was not every boy's idea of a hero; he was, for ever, discovering new subjects of interest and pursuing them, with enthusiasm.
I remember the chaos in his study, when I found him unpacking a library edition of the works of John Ruskin, some thirty or more large volumes, with a special book case, designed for them. It must have cost him a large sum of money.
He took his degree at Worcester College, Oxford, where, as I have said, he read Mathematics. He came to the conclusion that he had missed much by not studying Greek, and that he should study it. His plan was to set aside half an hour before breakfast and, with half a dozen boys in his House, start from the beginning. I was one of the boys invited. The scheme did not survive very long but I can still rattle off the letters of the Greek alphabet.
Hooper invited my brother and I to spend a fortnight with him at Stratford-on-Avon, where he had a convenient arrangement with a boatman on the river, by which he could take out any boat of his choice on five days of the week but not at the weekend. Our days there followed a set pattern: After breakfast we packed sandwiches and went down to the river, sometimes taking a punt, sometimes a canoe; we were soon out of town and into lovely country; the river has many backwaters, where, in a canoe, we could watch the wild life of the river, without making a noise. I remember one occasion, when we watched a crowd of rooks, mobbing a flight of herons. I learned to punt and to paddle a straight course, without lifting the paddle out of the water. Then, in the evenings, after an early supper, we went down to the theatre to queue for the Gods for the evening performance. This was the Benson Shakespearean Theatre which, a few years later, was burnt down.
Active service didn't alter him very much; some deterioration in language perhaps; but still enthusiastic of the life about him – the occasional dead quiet of 'No man's land' disturbed by the chirping of a lark in full song, or the flowers, growing in the desolation.
He began to look forward to his periods of duty in the observation post, spotting where the shells fell and ringing back to base identification with map reference; I remember recalling one occasion with great satisfaction. He had naturally made friends with many of the infantry officers in the front line; and, on one occasion, was greatly flattered to be invited by one of them to join a recce, which was ordered for that night to capture and bring in a German soldier for intelligence purposes. Hooper had travelled some way from the pacifist, who did not feel that the call in 1914 was for him. There matters rested for some months, but still his unease remained, that as a single man, he was not 'doing his bit'; and the next thing I heard, was that he had applied for transfer to the Royal Engineers, in order to be closer to action.
He was blown up on March 18th 1918, the opening day of the greatest and last German offensive, which very nearly brought them to Paris.
He left me, in his will, his bicycle, "a Sunbeam with the little oil bath."
The casing contained a small oil bath which lubricated the chain to reduce wear, kept it clean and improved power transmission.
I have a warm memory for him and I am pleased to have the opportunity of paying my respects.
R. G. Alexander (at school 1918)
This article re-published from The Old Masonians' Gazette by kind permission of the Editor.
« Bernard Thomas Stebbeds / Lieutenant Arthur Langton Airy (Herkomer student) »