Archive
Bernard Thomas Stebbeds
Bernard Stebbeds was born in Harleston, Norfolk in 1891, the youngest son of Alfred and Mary Stebbeds. Alfred was a coachman and stableman and worked in Norfolk, Suffolk, Leicestershire and Northampton before moving to Bushey Heath in the early 1900s. The family home was The Cottage, Two Oaks, Elstree Road, Bushey Heath, which stood opposite Caldecote Towers (later Rosary Priory). The Irish Census of 1911 shows that Bernard was working at that time in County Galway as a valet for an American family.
When war was declared he returned to England and on 14 January 1915 enlisted in the Army Service Corps, which supplied most of the food, equipment and ammunition required by the vast British army fighting on many fronts. After his initial training he was sent to Salonika and saw active service in Egypt.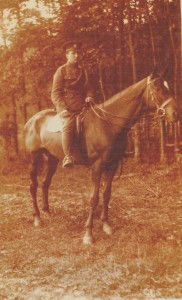 In the early hours of 2 July 1917 he was taking mail and a consignment of mules from Suda Bay to Alexandria when the ship he was sailing on, the SS Cameronian, was torpedoed by the German U boat UC 34. The ship took a direct hit, exploded and sank in 5 minutes with the loss of all 42 on board.
Bernard Stebbeds is commemorated on The Chatby Memorial in Alexandria, at St Peter's Church, Bushey Heath and on the Bushey war memorial on Clay Hill.
Bernard was my great uncle. His brother, Alfred, who served in France and survived the war, had four children. He was my grandfather.
Lawrence Stebbeds
Researched by Brenda Stebbeds
(now living in Carpenders Park, Hertfordshire)
« "Lads, You're Wanted. Come and Die" / A Pacifist who fought for his Country »