Archive
A Dead Man's Penny
Ernest Farmer, an agricultural labourer and shepherd, lived at Bushey Hall Farm Cottages, Bushey Mill Lane. He was 5ft 4 inches tall with a fresh complexion, brown eyes, dark brown hair and a slight curvature of the spine.
When war broke out, he enlisted as Private 43078 with the 6th Battalion of the Northamptonshire Regiment and served in France and Flanders. He was killed in action on 17 February 1917 and is buried at Regina Trench Cemetery, Grandcourt, on the Somme.
After the war, Ernest Farmer's family, like those of other service men and women who died, was sent a memorial plaque, commonly known as a 'Dead Man's Penny'.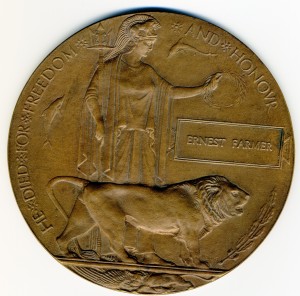 The medallion, made of bronze gun metal, was 12 centimetres (5 inches) in diameter and 1,355,000 plaques were issued using 450 tonnes of bronze. The design incorporated symbols and words including Britannia holding an oak wreath, an imperial lion, two dolphins representing Britain's naval forces, a rectangular tablet containing the deceased's name (no rank was given as all men were considered to be equal) along with the words, 'He died for freedom and honour' around the perimeter. Only 600 were issued for women with the words, 'She died for freedom and honour'. The Memorial Plaque was accompanied by a Memorial Scroll, a letter from Buckingham Palace and sometimes a letter from the commanding officer was included.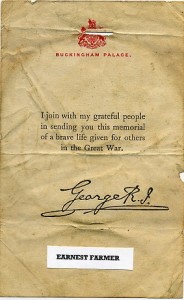 In 1922, Ernest Farmer's name was engraved alongside 157 others on the war memorial erected at Clay Hill in Bushey. This monument, designed by Sir William Reid Dick, was brought from London by horse and cart driven by Ernest's brother-in-law, Albert Rolls of Fearnley Street, Watford. Ernest Farmer's nephew, Peter George Rolls, now has his Dead Man's Penny.
Jackie Taslaq
« Lieutenant Arthur Langton Airy (Herkomer student) / Poppies of Remembrance »